Dr. Caren Chang is well known for her pioneering work in ethylene signaling, and she has continued to contribute significantly in this area by elucidating signaling mechanisms and physical connections among the different players in the ethylene-signaling  pathway. By helping to fill major long-standing gaps in the pathway, Caren's work has provided new advances in our understanding of ethylene perception and ethylene biology in general. In addition to her research contributions, Caren has also served ASPB and the plant biology community through her work on the editorial boards of several Society publications and as a member of the ASPB's Publications Committee.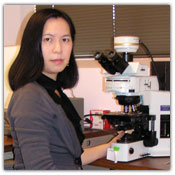 Dr. Keiko Torii, Howard Hughes Medical Institute and University of Washington, Seattle For the past 15 years, Keiko has been studying the role of receptor-like kinases in plant development and the mechanisms controlling stomata formation. Her research on stomata formation has greatly improved our understanding of how plant cells coordinate proliferation and differentiation to generate specific patterns during organ morphogenesis. In addition to her research accomplishments, she is a monitoring editor for Plant Physiology and editor-in-chief of The Arabidopsis Book (TAB).
Additionally, Keiko is currently serving on the ASPB Early Career Award Committee.
Honors will be presented at the Plant Biology 2015 meeting in Minneapolis. You can read the full list of 2015 ASPB awardees on the ASPB website.
About the Fellow of ASPB Award
Established in 2007, the Fellow of ASPB award may be granted in recognition of distinguished and long-term contributions to plant biology and service to the Society by current members in areas that include research, education, mentoring, outreach, and professional and public service. Current members of ASPB who have contributed to the Society for at least 10 years are eligible for nomination. Recipients of the Fellow of ASPB honor, which may be granted to no more than 0.2% of the current membership each year, receive a certificate of distinction and a lapel pin.